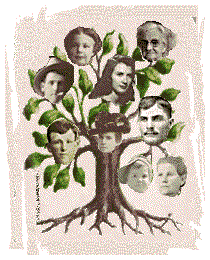 The Family Tree

It never occurred to me, until very recently, that I would have roots running deep into the soil of these United States. My father and his parents were born in Germany, and the scant information on my mother's family set out in my baby book suggested that her family had come to this country around the time of or just after the Civil War, from Wales and Ireland. So it has been with no small surprise that I have discovered, over weeks and months since I began researching my family tree, that I can trace my roots back to 17th century America. One ancestor -- a great great great great great great great (Gx7!) grandfather named Nicholas Gentry -- emigrated from England to Virginia and was serving in the colonial militia there in June of 1680. Another ancestor -- a 7th or 8th great grandfather depending on which of two lines of descent you look at -- named Davis Davenport owned land on the Mattapony River in Virginia before 1695. I have found that a great great great grandfather named William M. Robertson was born in North Carolina around 1794. And I have discovered that at least two of my forefathers, David Baker of Virginia and Elijah Gentry Sr. of South Carolina, fought in the Revolutionary War, and that at least two of my great great great grandfathers -- Elijah Gentry of Mississippi and Jesse Fore of South Carolina -- fought in the War of 1812.

Though I have always known I had family here (I have five brothers and two sisters and literally dozens of first cousins), I now am part of something much bigger. I am in email contact with a second cousin twice removed in California, and a third cousin, also in California, and a fifth or sixth cousin in Texas, and there are so many more. I've gotten a look at my grandmother's father and his brother and sister. I have been surprised to find that a gentleman in New Mexico thought enough of my grandfather's father to have kept his obituary from 1946, and was able to send photographs of him with a youngster we can't yet identify and with members of the community there. (I'll keep adding to a list of photographs here.)

Our family covers the American South and Southwest: Louisa and Hanover and Culpeper and Lunenburg and Shenandoah and Grayson Counties in Virginia; Wilkes and Guilford Counties in North Carolina; Cherokee County, Alabama; Wilkes County, Georgia Attala and Monroe and Neshoba and Rankin and Winston Counties in Mississippi; Gray and Parker and Delta and Midland and Wichita Counties in Texas; Tillman County in Oklahoma. We have been hatters (the mad hatter?!) and farmers and preachers and shopkeepers. Today we are lawyers and scientists and teachers.

There is so much I don't know as yet. And so much I want to know.

So welcome to these family pages. You may be a Shew or a Gentry or a Baker. You may be a Robertson or a Cottrell or a Livingston. You may be a Geissler or a Barrett or a Hollingsworth. You may have more information about some part of the family line, in which case I really want to hear from you. You may be looking for more information about some other part of the family line, in which case feel free to ask for any information I may have that helps.

We are family. And we have roots deep into the early days of this nation. I like that. Welcome, brother! Welcome, sister! Welcome, cousin! Welcome, family all! Click here to begin.
---

---