The postage-stamp-sized country of Liechtenstein -- on the east side of Switzerland, tucked between Switzerland and Austria -- was the destination for a day trip on Wednesday, May 10. It's only 160 square kilometers, and most of that seems at times to be straight up and down!

The capital of Vaduz is okay (the postage stamp museum is worth a few minutes, and you can get a nice stamp in your passport from the "Furstenturm Liechtenstein" (Principality of Liechtenstein) at the Tourist Office), but the real joy is out in the country above Vaduz, where the hiking is terrific.

We started out taking the bus up to the Village of Triesenberg (there is no rail service within Liechtenstein at all) and then another bus even further up to a little place called Steg, of which it can legitimately be said that there is no "there" there. The photo to the right of the start of the hiking trail shows about all there is of Steg. Don't ask me why we ended up starting the hike in Steg; Kacy seemed to like the sound of it.

From Steg back to Triesenberg, the trail first leads along several brooks and streams, and then up a long steep trail with wonderful views of the Alps all around. It was sunny and surprisingly hot for May, and we felt pretty good when (after indulging in a couple of beers at Steg's one and only inn), we managed to lap a German couple who had only had Cokes at the inn.

And I won't say it wasn't nice to get down a few thousand feet of elevation and several hours later to yet another inn where yet another beer was more than just a little resfreshing!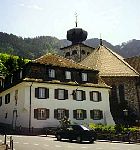 village of Triesenberg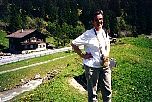 Start of trail at Steg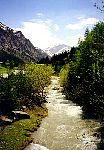 At Steg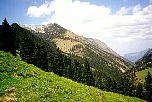 view, trail near Steg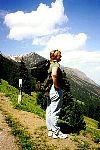 Kacy on the hiking trail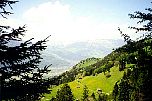 view from Steg trail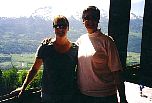 end of the trail