My sister Kacy graduated from Radford University summa cum laude with a double major in physics and geology -- at the age of 43 with four children ranging in age from nine to 17. For that, she was entitled to a trip anywhere she wanted, and she chose Switzerland. We arrived in Zurich on the morning of Tuesday, May 9th.

The things you notice first about Zurich are the Limmat River and Lake Zurich, and the Altstadt ("old city"). The Limmat, with a very fast current, basically cuts the Altstadt in half east and west, while the lake -- on the south side of the city -- gives teasing hints of the mountains in the distance. And both the river and the lake are suprisingly clean allowing for large numbers of swans and ducks along the edges of both.

The best view of the river and the east side of the Altstadt is from the Lindenhof, an open park overlooking the city and the river (with riverboats going by) is a wonderful place to just sit and gaze out over much of the Altstadt, or catch a chess game going on -- with BIG chess pieces.

The city has a number of remarkable churches -- the Romanesque Grossmunster with its 18th century Neo-Gothic spires is best known. From an historical perspective it's sad to see how much damage was done to the churches during the reformation. So many paintings and frescoes have been completely lost. Still, there's a lot to be seen in the 12th century crypt beneath the Grossmunster --including a sword purported to have belonged to Charlemagne.

Our hotel was up a little hill on the east side of the river, one street away from the University. That gave us the delight of having to take any one of a number of foot bridges across the river every time we wanted to go anywhere.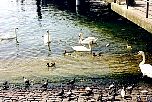 swans on Lake Zurich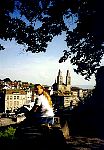 Kacy at the Lindenhof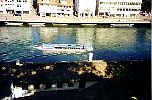 Riverboat from Lindenhof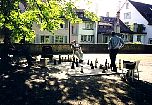 chess at Lindenhof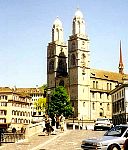 the Grossmunster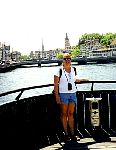 footbridge near hotel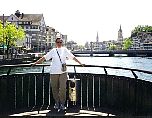 and me there too!