Telegrams from Fred Gottlieb to his cousin Hazel ("Totsy") Cottrell
In January 1948, Hazel "Totsy" Cottrell asked her cousin, Fred Gottlieb (son of Maude Cottrell Gottlieb) if he could come to Colorado and escort her down the aisle at her wedding on January 24, 1948.

His initial reply:




and his answer to her answering telegram: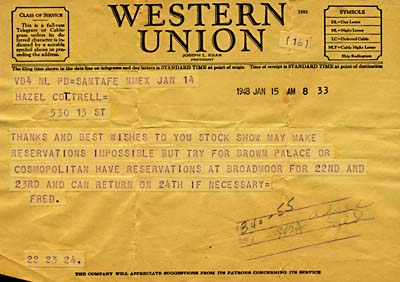 It wasn't such an easy task, walking her down the aisle. On September 26, 2002, he told the rest of the story in an email to Totsy's daughter, Judy Russell:

"Did your mother ever tell you what a hard time I had trying to give her away in marriage? We left Santa Fe after our own marriage for the Broadmoor hotel in Colo. Springs but ran into a heavy snow storm. Didn't get to the hotel until after midnight and then had to get up early to drive on up to Golden.

The roads were quite slick and in my rush, I slid into a sign post and smashed the fender on my father's new Buick which I had borrowed for the trip!

Geez! The sacrifices I make for the women in my life!"


---

Back to Letters page.
Back to Family Tree page.

---